Become A Franchisee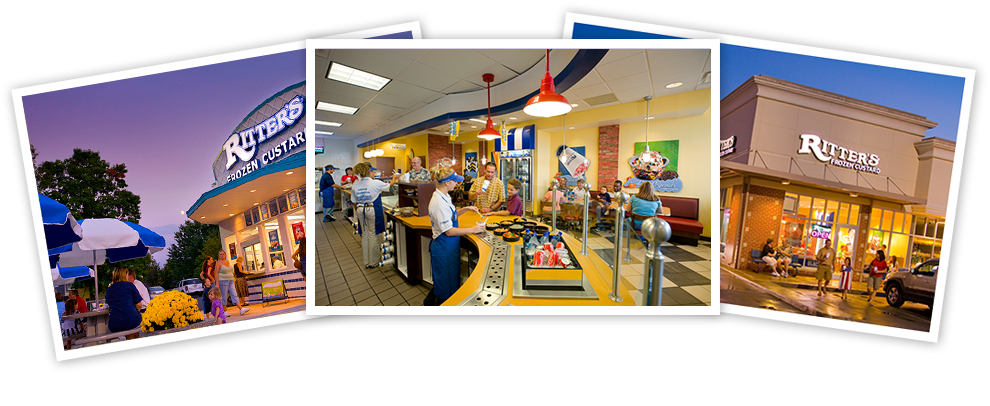 NOT ALL ICE CREAM IS CREATED EQUAL
One bite and you'll agree—Ritter's Frozen Custard is the creamiest, best-tasting ice cream you ever tasted. Ritter's Frozen Custard is made fresh ALL DAY, EVERY DAY, using only the highest quality ingredients. We add just a smidgen of pasteurized egg yolk and don't fluff up our ice cream with a lot of air, like most other brands, which produces our amazing combination of flavor and texture. And to the surprise of many, our ice cream is only 10% butterfat, which is actually less than most competitors.
TRUE FRANCHISE PROFESSIONALS
John and Bonny opened the first Ritter's Frozen Custard shoppe in Franklin, Indiana, in 1989. We are very proud to say that John and Bonny Ritter remain a part of the TRUFOODS family to this day operating multiple locations in Franklin and Greenwood Indiana. Under the TRUFOODS family of brands, Ritter's Frozen Custard is headquartered in New York City, NY with shoppes all across the Midwest, Florida and Texas.
THE IDEAL FROZEN TREAT MENU
Variety is the spice of life. The Ritter's menu is like no other. With options of the best 140 flavors of super-premium ice cream made fresh every day, all day - Ritter's Frozen Custard locations typically serve 6 frozen custard flavors, 1 sugar free option, 1 fruit, nut and specialty flavor, Italian ices, cones, ice cream sundaes, glaciers, shakes, smoothies, cakes, pies… plus premium burgers, hot dogs and fries.
SEE MENU
LOW COST MICRO SATELLITE SCOOP SHOPPES
Ritter's Frozen Custard's multi-unit business model has far more potential than the typical frozen treat retailer. With Ritter's once you've developed a unit with ice cream production; you can inexpensively develop multiple micro satellite retail-only scoop shoppes in the area.
DISCLAIMER: This web site does not constitute the offer of a franchise. The offer and sale of a franchise can only be made through the delivery and receipt of a Ritter's Frozen Custard Franchise Disclosure Document (FDD). There are certain states that require the registration of a FDD before the franchisor can advertise or offer the franchise in that state. Ritter's Frozen Custard may not be registered in all of the registration states and may not offer franchises to residents of those states or to persons wishing to locate a franchise in those states.